Shared History: "Jews and Muslims in Iraq"
The seventh book in Project Aladdin's "Shared History" series, Jews and Muslims in Iraq, was published by the French publishing house Tallandier in March 2022. Written by historian Esther Meir-Glitzenstein, professor at Ben Gurion University in Beer-Sheva, the book was translated into French by Jean-Luc Allouche. It traces the millennia-old history of Iraqi Jews, an extraordinary account of a civilization that thrived for centuries in Mesopotamia, and the relations between Jews and Muslims in Iraq.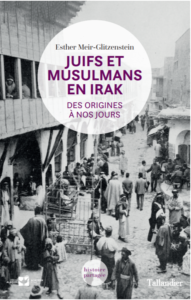 In this 300-page book, historian Esther Meir-Glitzenstein traces the history of the Jewish community in Iraq over a period of nearly twenty-six centuries. From the exile of the inhabitants of the Kingdom of Judah to the birth of the Babylonian Talmud, a masterpiece of rabbinic literature, the book allows the reader to discover this rich culture, its customs, and its influences. The history of Iraqi Jews is one of the most fascinating stories of Jewish communities anywhere in the world.