Yad Vashem and Project Aladdin Expand Cooperation in Educational Programs
Leah Pisar, Project Aladdin Chair, and Dani Dayan, Chairman of the Yad Vashem Directorate, met in March 2022 in Jerusalem and signed a Memorandum of Understanding that charts a new path for expanded cooperation between the two organizations in the field of education. Together they reiterated their common goal of promoting Holocaust education and awareness in the countries of Africa, the Middle East and Asia.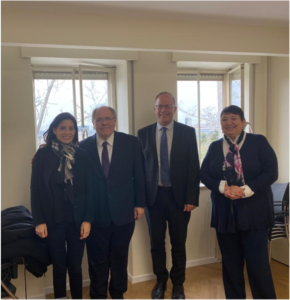 Yad Vashem and Project Aladdin have entered into a new partnership agreement to raise awareness of Holocaust history and its universal lessons among teachers and educators in the using of innovative pedagogical methods in formal and informal settings. The agreement will enable the sharing of good practices observed through the past activities of Yad Vashem and Project Aladdin.
The two organizations will work together on different approaches to Holocaust awareness and education in the Middle East and Africa and Asia, including e-learning, conferences, teaching platforms and online resources in local languages. These methods take into account the socio-cultural specificities of the different countries where these activities will take place.