Project Aladdin and Bahrain's Top Think Tank Explore Avenues of Partnership
Dr. Hamad Ebrahim Al-Abdulla, Executive Director of the Bahrain Center for Strategic, International and Energy Studies (Derasat) and Sheikha Nayla bint Ali Al Khalifa, the think tank's director of communication and knowledge management, and several experts from the institute received Project Aladdin's Leah Pisar and Abe Radkin to discuss joint programs focusing on Jewish-Muslim relations and intercultural exchanges.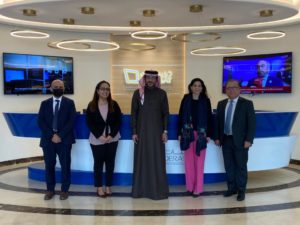 Project Aladdin's delegation met with the leadership team of Derasat to discuss specific projects that could be implemented jointly, including organization of conferences, publication of books and studies, training courses for young people, and content development in the areas of the fight against hate and violent extremism. The meeting followed a first gathering of the leaders of the two organizations in November 2021 during the visit to Bahrain of a high-level delegation from Project Aladdin.