Azerbaijan's Minister of Culture Welcomes Joint Initiatives with Project Aladdin
Azerbaijan's Minister of Culture, Anar Karimov, and Ambassador to the United States, Khazar Ibrahim, met with Project Aladdin's Chair Leah Pisar and Executive Director Abe Radkin in Washington and discussed a joint program to build resilience among young people against hate and violence through music and culture. The meeting took place on the occasion of a concert of Azerbaijan's classic and modern music at the Kennedy Center.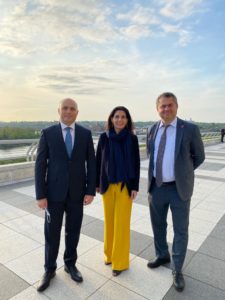 At the meeting in Washington, Azerbaijan's Culture Minister Anar Karimov expressed his country's longstanding support for Project Aladdin and recalled the groundbreaking international conference that Project Aladdin organized in Baku in 2017 with the support of the Ministry of Education of Azerbaijan to discuss Holocaust education. He expressed his ministry's willingness to explore joint initiatives with Project Aladdin in the areas of culture, intercultural dialogue, and respect for diversity, including training programs for young people.
Project Aladdin's Chair and Executive Director thanked Minister Karimov and Ambassador Ibrahim for Azerbaijan's strong support for Project Aladdin. They proposed further discussions on a joint program that would teach the importance of cultural diversity and the scourge of racism, prejudice, and xenophobia to schoolchildren through the arts and music. The two sides agreed to continue these discussions and plan a visit to Baku by a delegation from Project Aladdin.
After the meeting, Project Aladdin's representatives attended the "The Voice of the Orchid" concert in Washington's Kennedy Center on May 3. The program featured classical and contemporary Azerbaijani music, including performances by the Baku Chamber Orchestra, Mugham performers, and modern Azerbaijani musicians and singers.