Diplomats, Religious Leaders, and Academics Speak at Project Aladdin's Conference in Istanbul
On July 20, 2022, Bahçeşehir University (BAU) hosted the inaugural conference of the eighth annual program of the International University for Intercultural Leadership, in Istanbul. The conference explored the impact of inequalities on society and brought together religious dignitaries, diplomats, scholars, representatives of partner universities and journalists, as well as the participating students.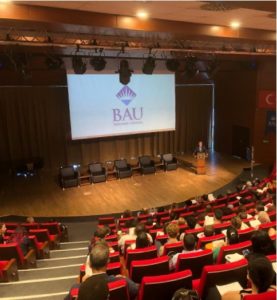 The conference was opened by Project Aladdin Executive Director Abe Radkin and BAU Rector Prof. Şirin Karadeniz, following a short introduction by journalist and television presenter Asligul Atasagun. Abe Radkin noted that what Project Aladdin started in 2013 in partnership with a handful of universities and with the support of UNESCO has grown into a "best practice" example in the field of intercultural training for young leaders. He particularly thanked BAU founder Enver Yücel for his unfailing support for the program over the years. Prof. Karadeniz, speaking on behalf of Mr. Yücel, praised the program for allowing "students from all over the world to come together in the name of the fundamental values of tolerance and rejection of all forms of discrimination."
Ambassador Salih Murat Tamer, speaking on behalf of Mevlüt Cavusoğlu, Minister of Foreign Affairs of Turkey, said the IUIL program "is in line with the line defended by Turkey for many years on the international scene, through the humanistic values conveyed by Project Aladdin."
Prof. Mitike Molla Sisay, Vice-President of Addis Ababa University, said in her remarks that the IUIL program was not just an important vehicle for promoting tolerance and peace, but for giving African students the valuable opportunity of spending two weeks with students from different continents and thereby broaden their horizons and their ambitions.
Judge Mohamed Abdelsalam, Secretary General of the Higher Committee for Human Fraternity and the Council of Muslim Elders, delivered the keynote address and underlined his support for Project Aladdin. He expressed his intention to conduct joint programs with Project Aladdin to promote intercultural and interfaith dialogue and fight antisemitism and islamophobia.
Abe Radkin then moderated a roundtable discussion with Prof. Ilber Ortayli, a renowned historian and former President of the Topkapi Museum; Prof. Nilüfer Narli, Dean of BAU Sociology Department; Rabbi Mendy Chitrik, President of the Alliance of Rabbis of the Islamic States; and Anna Maria Majlöf, Head of UNESCO's Inclusion, Rights, and Dialogue Section. The panelists spoke about the way the pandemic has exacerbated the negative consequences of inequalities on access to quality education, health care, clean water, and other vital matters.
Isak Haleva, Chief Rabbi of Turkey; Laki Vingas, representative of His Holiness Bartholomew I, the Ecumenical Patriarch; Pinar Dost-Niyego of the Atlantic Council in Turkey; Joyce Monteiro Crouzet, Program Specialist at UNESCO; Deniz Saporta, Executive Director of the Jewish Community of Turkey; and Allison Lee, public affairs officer for the U.S. Consulate in Istanbul were among the participants at the conference.