Project Aladdin at the Launch of European Abraham Accords Foundation in German Parliament
At the invitation of German parliamentarian Armin Laschet, Project Aladdin's Leah Pisar and Abe Radkin participated at a meeting in the Bundestag on September 5 to launch a European foundation to support the Abraham Accords and civil society partnerships in the Middle East and North Africa. The idea for such a foundation was discussed at the Tangier Dialogue meetings in June among high-ranking participants from the UAE, Bahrain, Morocco, Israel, Germany, France, the UK and the United States.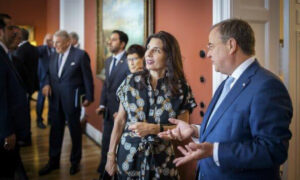 A group of senior German politicians, including former Bundestag president Rita Süssmuth; former Education Minister Annette Schavan; senior diplomats from Bahrain, the United Arab Emirates, and Israel; and senior executives from several German companies were among the participants at the event in the chambers of the president of the German parliament.
Armin Laschet, the former Minister-President of North Rhine Westphalia and currently the Vice-President of the Parliamentary Assembly of the Council of Europe, chaired the meeting. In his opening remarks, he explained the need for an organization that would encourage European governments and political parties to support the establishment of diplomatic relations between Israel and Arab countries and would implement projects that foster cooperation among civil society organizations across the Middle East and North Africa.