64 Young Leaders Graduate from Aladdin's 8th International Summer University for Intercultural Leadership
The eighth edition of the International University for Intercultural Leadership, organized by Project Aladdin in partnership with UNESCO and the University of Bahçeşehir, brought together 64 students from 35 partner universities from Europe, the Middle East, Africa and North and South America. For the first time, Bahraini, Ethiopian, Emirati and Mexican universities participated in the two-week program, which explored "The Impact of Inequalities on Society".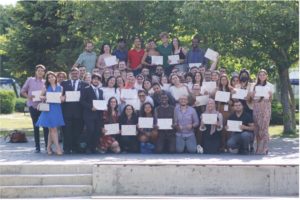 Lecturers and practitioners from different countries provided the students with a theoretical understanding of the impact of inequalities in different fields, both from contemporary and historical perspectives. The participants took part in workshop sessions and worked on research projects related to the theme of the program.
UNESCO program specialist Joyce Monteiro Crouzet and her colleagues conducted a two-day workshop based on the UNESCO Manual for Developing Intercultural Competencies. The purpose of this workshop is to allow the students to learn the basic tools of intercultural communication and how these methods can be adapted to various contexts.
In addition to classes, discussions, and informal activities, the program included a tour of the historic center of Istanbul, including the Blue Mosque, Hagia Sophia Basilica and the Grand Bazaar, as well as a "Welcome to My Culture" evening where the students from each country presented the culinary and musical heritage of their nation to the other participants.