Antony Blinken: Tangier Dialogue could be "an active force" in the quest for "programs that lead to shared progress"
The United States Secretary of State praised Project Aladdin, the Ministry of Foreign Affairs of Morocco and the UN Alliance of Civilizations for launching the Tangier Dialogue in a video message broadcast during the launch conference.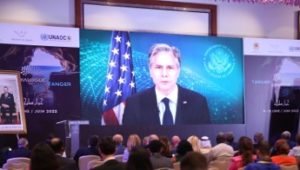 United States Secretary of State Antony Blinken welcomed Morocco's efforts in embracing diversity, combating racism and promoting interreligious dialogue. In a video message addressed to the inaugural ceremony of the Tangier Dialogue, Blinken commended Project Aladdin for "building bridges across cultures to counter all forms of racism and intolerance." He said, "The fact that this dialogue is happening in Tangier, a historic crossroads city where people of different nationalities and faiths have traveled, settled, and shared knowledge and culture for centuries, is especially fitting."
Antony Blinken pointed out that the United States is working with many governments on the issue of the future of relations between the West and the countries of the Arab-Muslim world. He expressed confidence and optimism that the Tangier Dialogue initiative would help move this work forward: "We have to reach beyond platitudes to policies and programs that can drive shared progress. The government ministers, scholars, entrepreneurs and journalists attending this conference will help make that happen."
The top US diplomat stressed the importance of the Tangier Dialogue in strengthening understanding between the West and the Muslim world, saying that it can serve as an "active force" for positive change. With countries facing several shared issues such as the climate change and the COVID-19 pandemic, Blinken spoke on the need to collaborate to address emerging challenges in the region, including forging peace in places of conflict and expanding economic opportunities. He also highlighted the need to secure freedoms for people of all faiths while addressing the climate crisis and food and water security.
The US Secretary of State called for programs and policies that ensure shared progress and contribute to the creation of a peaceful and prosperous world.